The Institute of Chartered Accountants of India ( ICAI ) has recommended a practice management software for the practicing Chartered Accountants and CA firms. The Committee for Capacity Building of Members in Practice (CCBMP) of the ICAI has arranged the practice management software for members in practice/firms, in form of cloud software designed for managing the Professional Practice in an effective way.
The scope and function of aforesaid software Assignment management :-
Long duration Assignment Management
Medium duration Assignment Management
Short duration Assignment Management
Work allocation and tracking
Timesheet recording
Variance and Profitability analysis
Leave management
Expense management
Meeting management
Mobile-based GPRS based attendance management
Mobile app and portal based system
Customer Relationship Management (CRM)
Invoicing
Collection Management
BI and Analytics tool
Simplify Practice
Simplify Practice is an innovative and robust software for practice management. It's designed to deal with day-to-day operations using desktop, client-server and internet-based software. The software provides with functionalities for synchronization and automation of single or multiple processes.
Members and CA firms desirous to avail the aforesaid software may please visit https://simplifypractice.com and online solution for same.
But Simplify Practice is NOT the ONLY software product in market which you can use to manage your Chartered Accounting Practice.
Below are the other best 5 Process and Task Management Systems to manage your CA, CS, CWA, GST practice :-
CORDL
CORDL is a cloud based software built for CA/CS/Tax practices. Anyone managing a team of professionals find it easy and efficient to use CORDL to run their daily business. CORDL is founded by practicing Chartered Accountants built for the community.
This Bengaluru based Practice Management Software product, ranks at number one on our practice management software list, helps you to :-
Allocate works in few clicks and keep track of all the activities at your finger tips
Keep a tab on your practice from anywhere, anytime
Organize and Manage all your resources in one place, including Leave Management & Effort Tracking
Plan your Calendar and Time. Never miss any meetings
Automate repetitive tasks – Do not spend much time on Repetitive tasks, leave it to CORDL. Recurring tasks & invoices will guarantee timely receivables
Setup reminders and follow ups – Reminding employees about tasks, following up with clients for payments & docs – CORDL can do all of these for you
Securely manage data & files – Dealing with lots of Files and Sensitive Data? Manage everything at one place
Chat & collaborate internally – Collaborate internally with CORDL's innovative To-Do List
Generate actionable insights & reports – Don't fly blind, let the data guide you. Take decisions based on the Actionable Insights & grow business
CORDL is already being used at some reputed CA firms. The UI of CORDL is very user friendly which makes it easy to use. Some of the screenshots are :-
CORDL pricing is not available BUT if you are interested you can 'Request for a Demo' from its website.
MyTask.co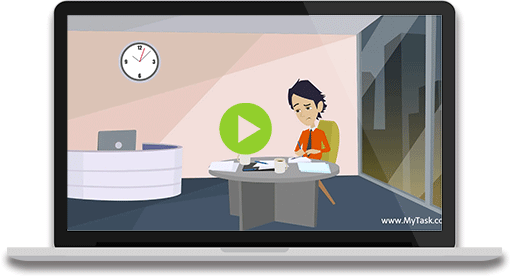 Founded by a Chartered Accountant Mr. Himanshu Osatwal Mytask.co ranks at number two on our list as one of the best practice management software products for CAs in India.
This Jaipur based startup registered in Govt's StartupIndia program helps chartered accountants manage their practice effeciently and effectively increasing revenues by cutting down the costs.
As a CA, CS, CWA, GST professional you are always worried about :-
Collection of professional Service Fees, Outstanding dues etc.
Completion of Service on or before due date(Legal/Client's/ Organization)
Staff's / Assitant's ability to manage allotted work and deliver the desired result
Efforts put in and conversion of efforts into revenue
Documentation of Notes / Observations at one place
Chances of missing out any task received from client when tasks are in volume
Managing Personal and General Office Work
Mytask.co helps you get rid of all these worries by using it to manage your chartered accounting practice.
Mytask.co will cost you around INR 14,986/- per year for 10 users – which includes one time setup fee, recurring charges, GST @ 18%, 1500 SMS per month
CA Office Automation
CA Office Automation is a Complete Office Management Solution for Chartered Accountants.
Some of its features are :-
Work Management
Document Management
Accounting Management
Employee Management
Client Management
"CA Office Automation" is a robust and accessible tool that has carved a niche for itself by offering some superior advantages to CAs and CPAs across the globe to manage their day to day activities. Since its inception, CA Office Automation has helped accountants to consolidate between sensitive documents, tasks, accounting, clients and employees to simplify processes.
It is having more than 3000+ Users including Certified Public Accountants, Chartered Accountants, Company Secretary, Tax Professionals, Tax Consultants & Corporate clients across the globe.
This Ahmedabad based Practice Management Software for Chartered Accountants company ranks at number three on our list.
CA Office Automation will cost you approx. INR 10,072/- per year for 10 users – includes one time setup, recurring fee @ INR 199/- per user, GST, Unlimited clients etc. Note:- Price mentioned on website is litle confusing so if you are interested, in buying, get a quote from "CA Office Automation" first before taking a decision.
BTrackerTask
BTracker helps the organizations to improve their operational management system, by providing them with the application to manage and reallocate job assignments by creating, assigning, prioritizing and monitoring a task to ensure that it is completed on time. It fulfills all the requirements of a company by guiding it towards a better management and functionality irrespective of their size.
Do you get the same nightmare as other CA, CS, GST practitioners get because of not upgrading there firm to latest software products?
Oh! It's the end of month and you Forgot to send an invoice to your client?
Does it feel like nightmare remembering which clients you haven't sent invoices to?
Worried about the Efficiency of your Staff?
Are your clients submitting the required documents on time?
Do you forget to keep track of which petty expenses to send to your client for re-imbursement?
Need not worry, BTrackerTask helps you to get rid of all these Problems, above.
BTrackerTask costs around INR 19,200/- per year for 10 users – includes unlimited tasks, unlimited clients, 2 GB Disk space, and GST @ 18%.
RightApp4U is promoting BTrackerTask at a throwaway deal price of Rs 9,900/- for LIFETIME License of 10 users. Which means you pay Rs9900 just once and use BTrackerTask without any renewal / recurring fee. Buy this Deal now here.
CA Dashboard

With CAdashboard, you can easily invoice clients on click. Automatic reminders emails to client help to get paid faster. Never miss any revenue – log billable hours and expenses on the go so that you can bill them to customers.
CAdashboard helps you to get organized take control of work in your organization. You'll be able to track tasks, understand progress of work, log expenses and invoicing to your clients.
CAdashboard helps to automate work and take control of work in your organization. With increased efficiency, you can increase customers, top line as well as bottom line.
CAdashboard costs around INR 15,000/- per year for 10 users with 10 GB data space – GST extra @ 18%. Note:- CAdashboard has different packages for CA, CS and SME.